Latest version:

6.10.25.33
To update eCut – DOWNLOAD latest version and install.
_________________________________________
eCut 6.10.25.33
2021-03-11
CorelDraw GS 2021 is supported!
eCut 6.10.25.32
2020-12-23
Finger-joint box creator can create sliding lid now.
Two new languages added: French and Turkish.
eCut 6.10.25.31
2020-12-14
Node extention function updated
New custom notched in cassette function
Barcode creator can create vektor shape.
eCut 6.9.21.25
2019-10-01
New route optimizer methods: nearest to path, manual mode.
eCut 6.9.19.23
2019-05-09
Finally you can set minimum distance to zero. But if tolerance will be bigger then minimum distance – you may have little intersections.
eCut 6.9.18.22
2019-02-15

New edge roll method – with notch on edge. Read more information about how to use this feature on this page:
And some fixes in nesting and variables functions
eCut 6.9.17.21
2019-01-23
New cropmarks for Versa and Simple1 for summa.
Now you can set rows and columns count in contour cutting feature
Hot-wire cutter feature now can create helpers on each side
New commands for Creation PCUT cutters that do not freeze plotter
CM in cassete feature
Nesting function can now rotate everything on 180deg.
Route optimizer can change first point of each path near to its corner.
eCut 6.9.17.20
2018-12-11
Rectangle nesting can now fix angle to prevent rotation of shapes
Nodes editor can now process inner corners with dog-bone effect for finger-joint shapes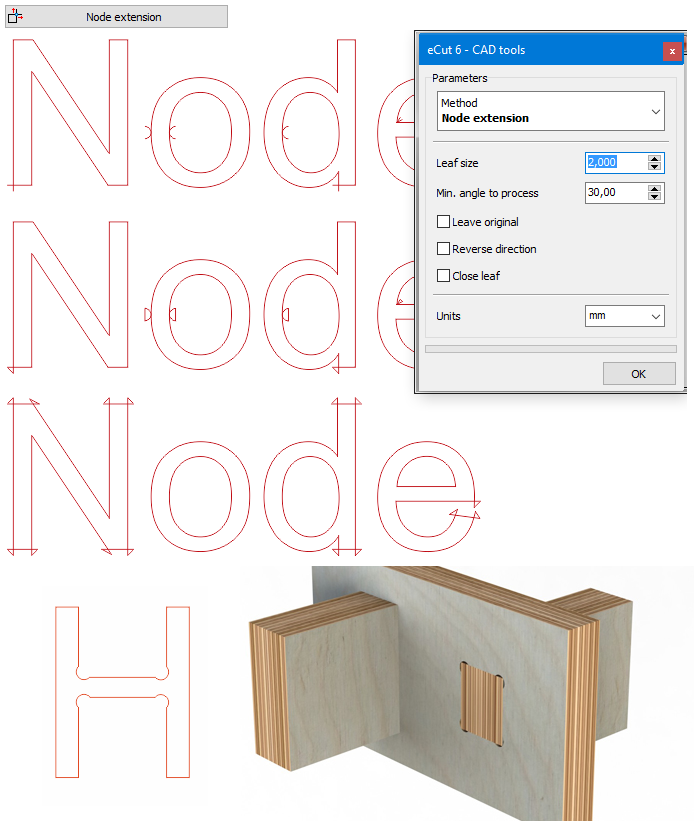 eCut 6.9.16.19
2018-06-14
Fill holes with custom shape in nesting function
Added locks to signbox creator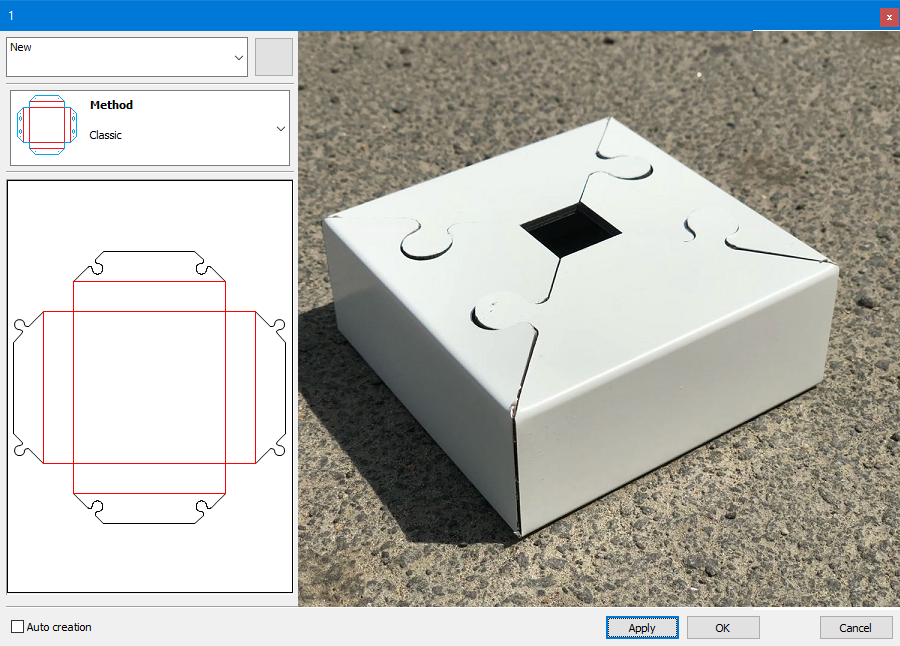 New feature inside slice function – manual mode. Use it to create stencils or cut difficult shapes.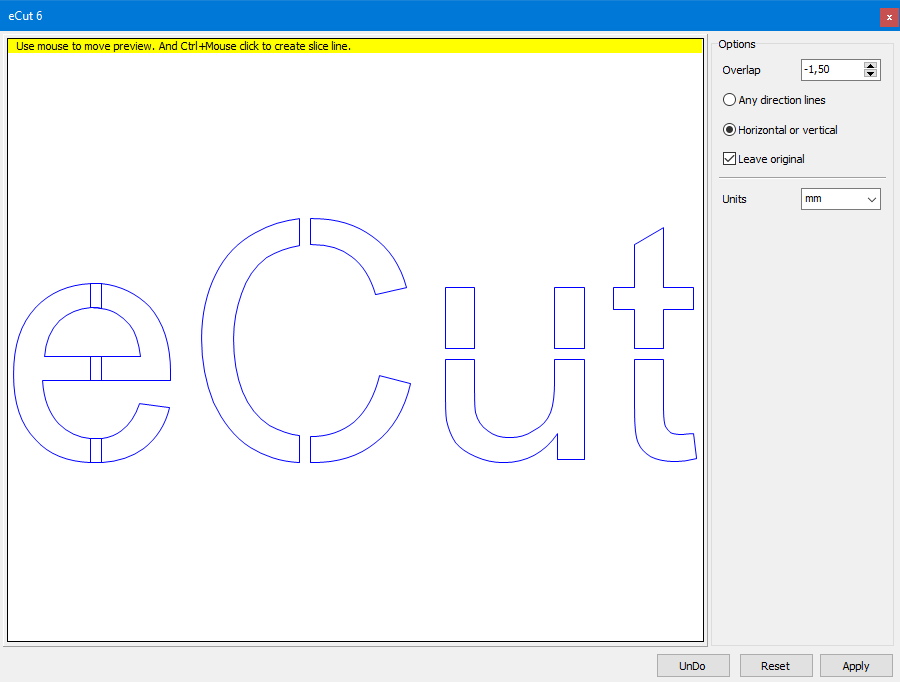 Hotwire cutter can cut shapes not node-to-node, now you can set any position on shape.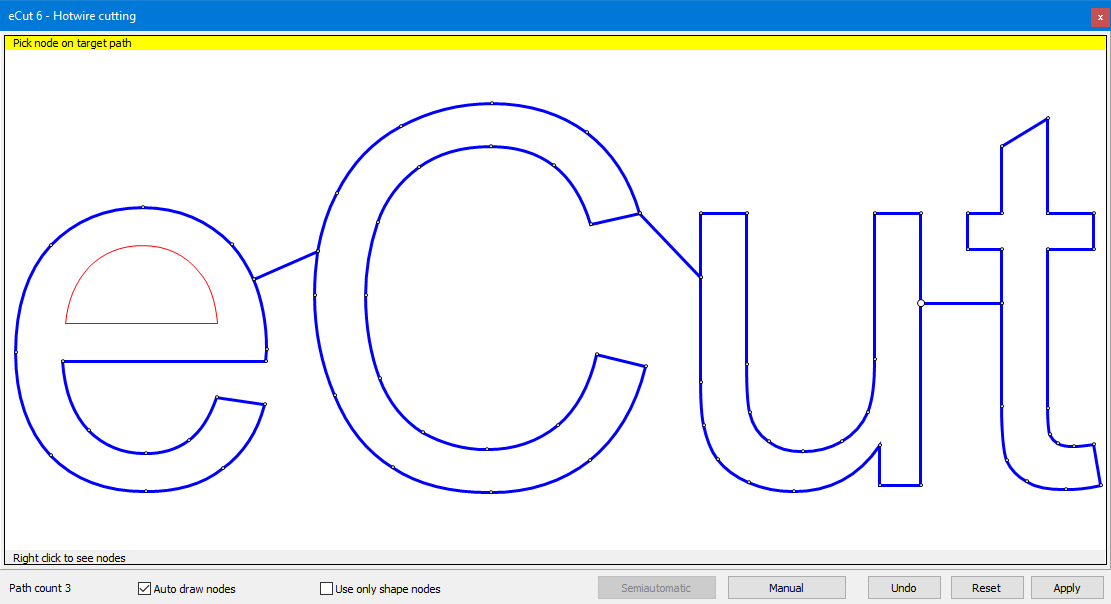 And some fixes.
eCut 6.9.15.18
2018-05-30
New function – volume calculator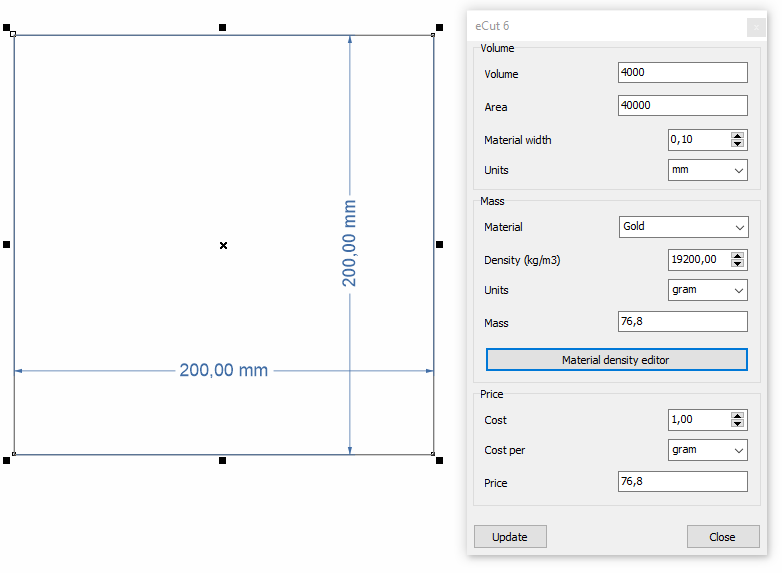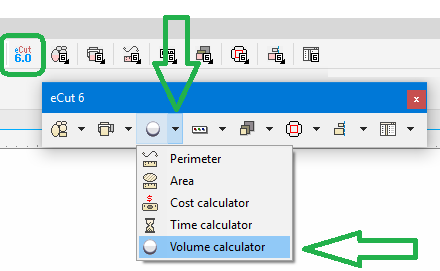 eCut 6.8.14.17
2018-05-04
Added forms scaling for high resolution monitors (4K and more…).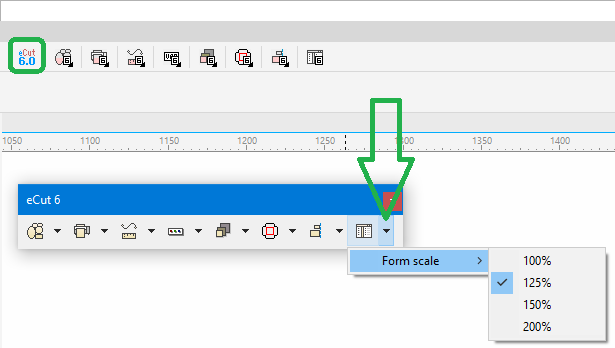 Also new feature in CAD functions – auto dimensions: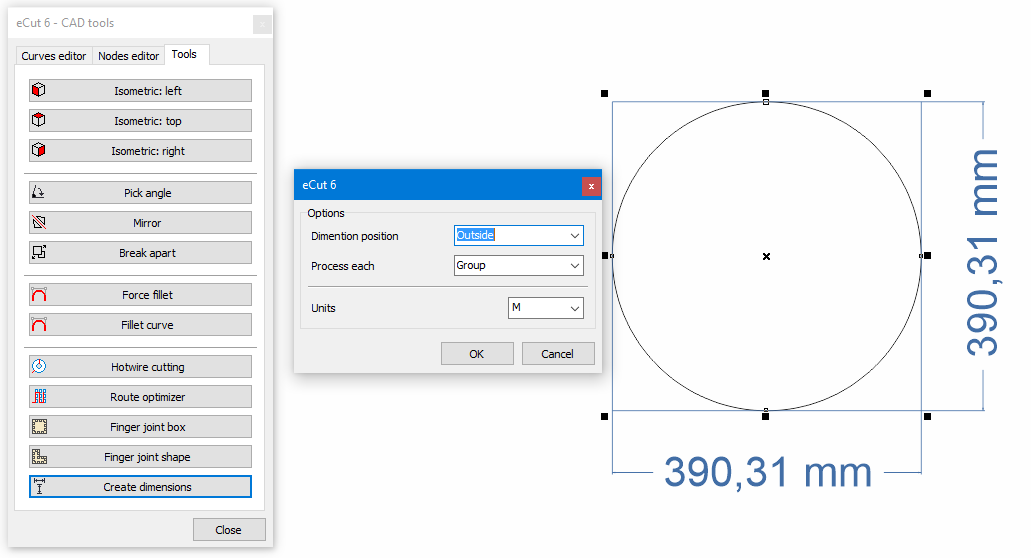 In finger-joint box there are dividers now.
eCut 6.7.13.16
2018-04-05
10.04.17
CorelDRAW 2018 support added
And some little fixes.
Some little fixed.
Cut/plot: – if your plotter can not pause while rolling down material – you can try to fix it by setting RollDownStep.
Search duplicates: now you can process each path of combined shape.
Search: you can now set size of object that you want to search (min and max width and height)
eCut 6.7.12.15
2018-02-27
New version of signbox creator with new method.
New cropmark.
And other fixes.
eCut 6.6.11.14
2017-11-05
Many little fixes and improvements (LEDs, Cost, Plot)
eCut 6.6.11.13
2016-08-11
26.04.17
Added CorelDRAW 2017 support And some fixes to same version.
10.11.16
Bridge creator can swap strokes now.
15.10.2016
And some more features: barcode generator can make thicker lines, 64bit support improved, cut function updated.
New function was added: finger-joint shape

Also some fixes and addons in other functions:
Cut/plot – fixed sorting
Eyelets – all holes will be groped
Nesting – sorting is available in container now, efficiency output, now you can set time to process your shapes
Area – DM2 and CM2 was added
Route optimizer – new shapes will save some parents parameters
eCut 6.5.10.12
2016-01-11
17.02.2016
Some more fixes and enchantments in this functions:
Cost calculator, Rectangle nesting, True shape nesting, Multiply, Create carrier.
Many little fixes and improvement that was made for last months.
Weeding lines can create separate lines to separate text lines.
LEDs show how many diodes was created in status bar.
and many other fixes that was updated earlier…
For example – contour cutting feature: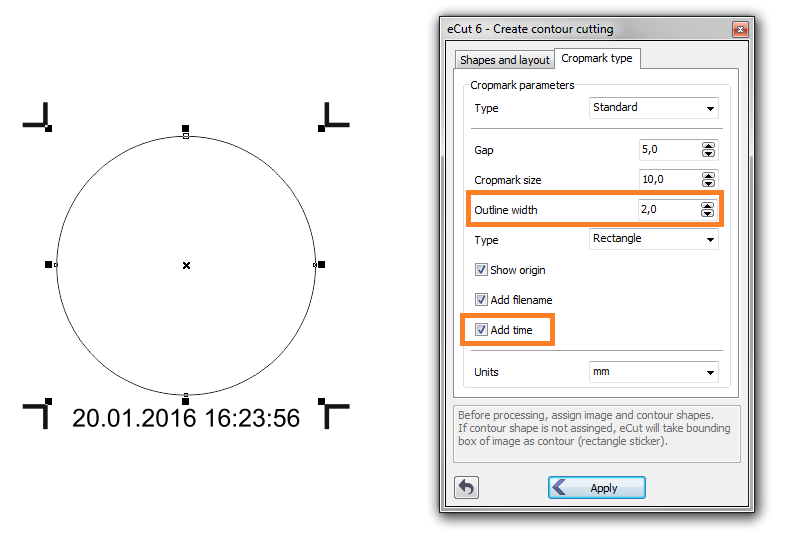 eCut 6.4.9.11
2015-07-17
06.11.2015
UI scale fixed
New function – finger joint box creator.
You can use laser or CNC milling machine to create this boxes, function can compensate CNC tool diameter.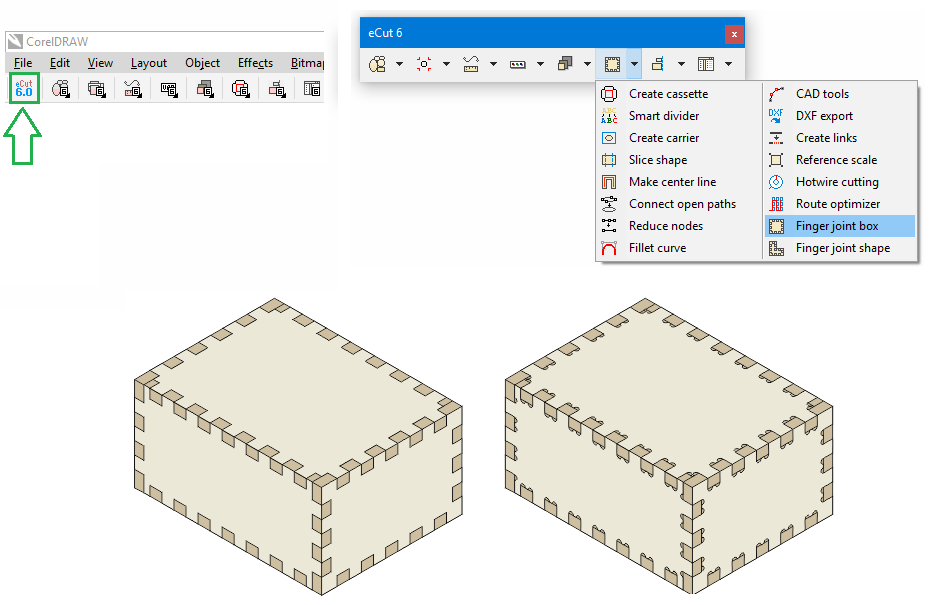 Also fixed bugs that could cause 64bit CorelDRAW error when processing very complex shapes.
Also search function was improved.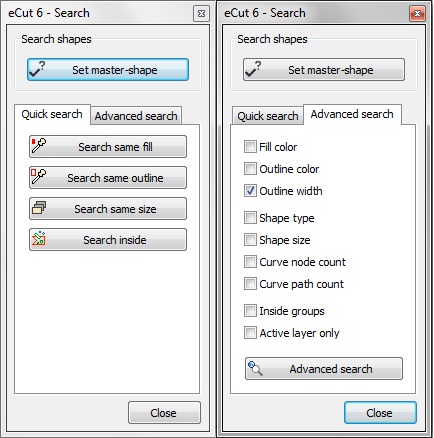 eCut 6.3.8.10
2015-07-07
Some little fixes.
Nesting can create blocks in rows after nesting if they are not fitting to area.
Weeding lines can make lines smaller.
New cropmarks – circles with variable diameter.
eCut 6.3.7.9
2015-04-13
Some little fixes.
eCut 6.3.7.8
2015-03-23
Added new feature in route optimizer – "change first node". Allows eCut to find best point to start curve and decrease tool UP time.
Multiply has "Fix angle" feature to block rotation of original shape.
In Variables new delimiter was added to import filter – ','.
eCut 6.3.6.7
2015-03-04
New feature – route optimization.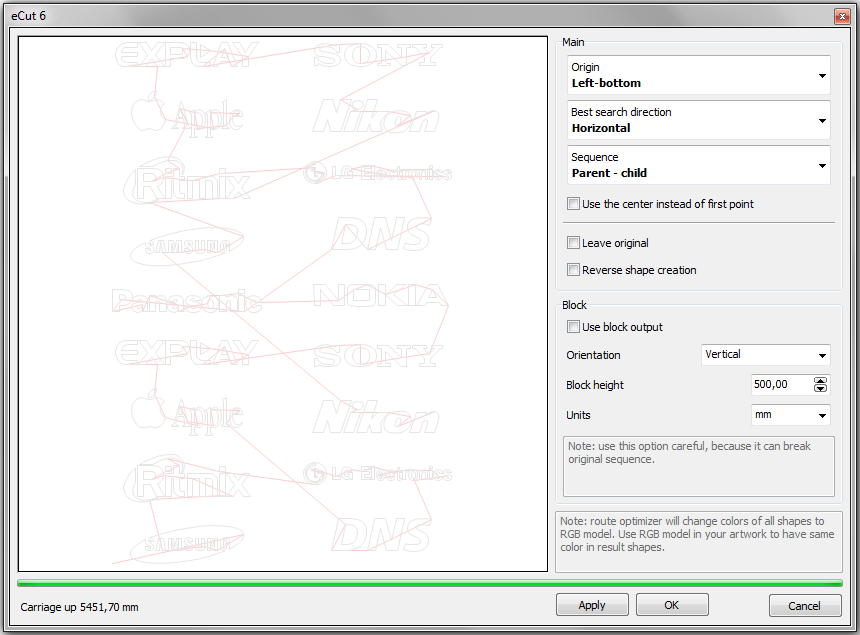 New effect – place(fit) shapes along curve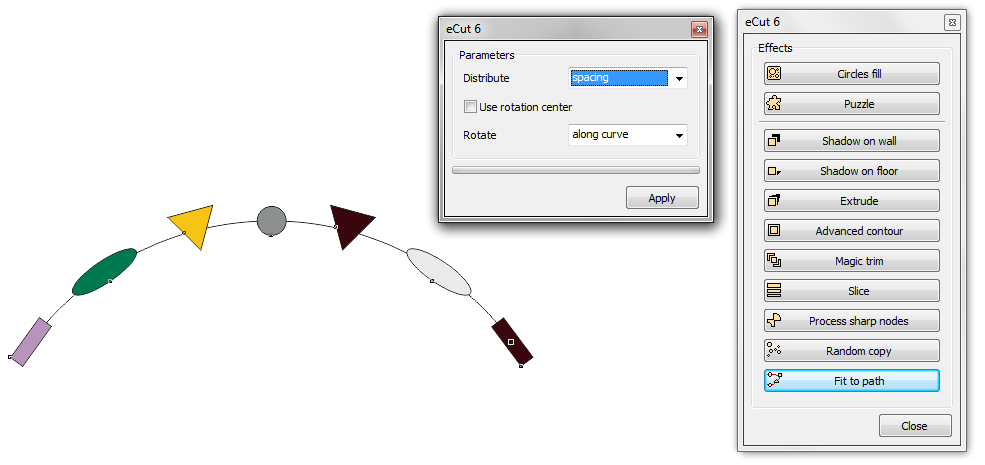 New feature in TIME function.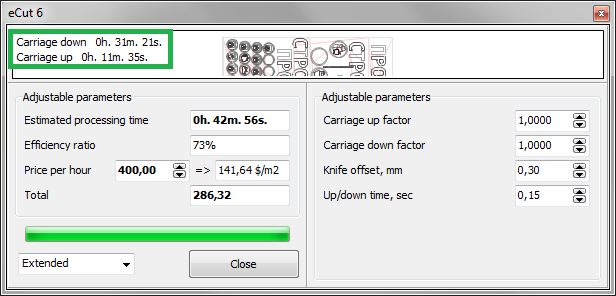 Nodes redraw updated in hotwire cutting feature.
eCut 6.2.5.6
2015-02-17
New function is used to construct a single path for cutting foam (and similar materials) on specialized machines with hot wire.
YouTube

Also, very useful will be new feature from CAD-functions : Node extension.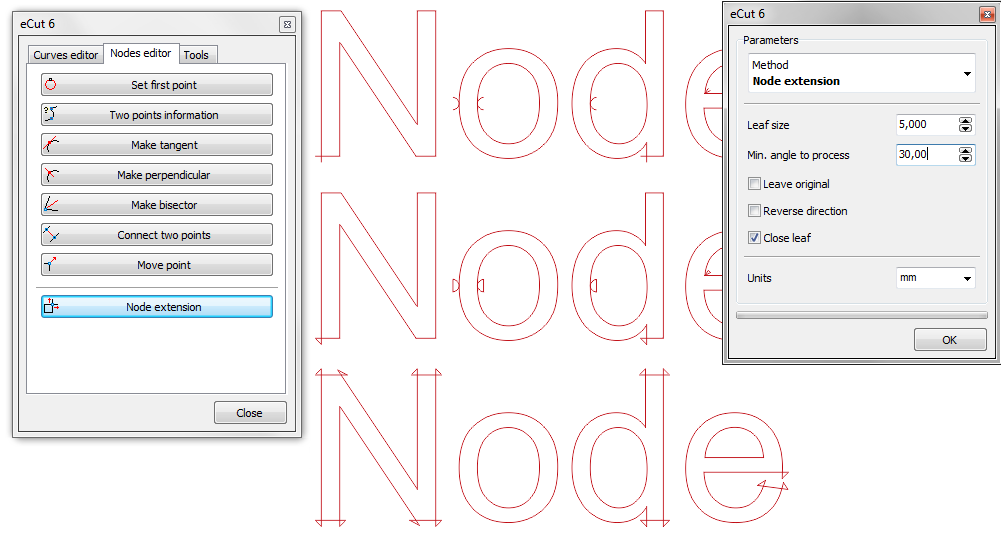 Also Remove dup. edges was updated – now it more faster and stable.
Edge roll function was updated.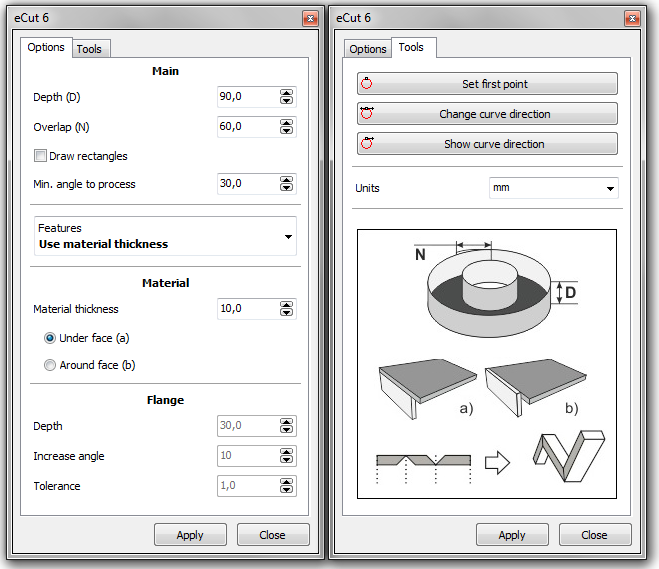 eCut 6.1.3.4
2015-02-03
LEDs function was updated. Now eCut will place more diodes on curve.
Now you can select reference point when placing diodes on curve (or fill). It can be center or edge of diode.
Also Italian UI language was added.